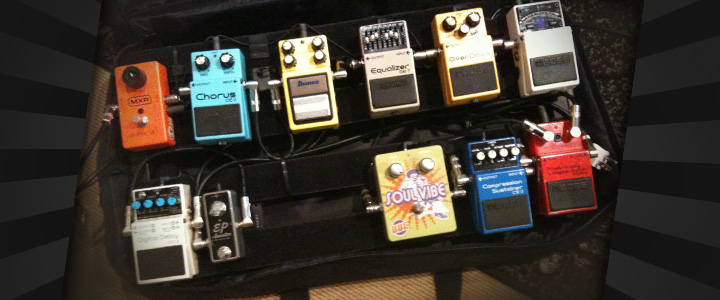 I LOVE this time of year! First of all, it's close to my birthday (March 8th) and just starting to hint of spring, which means touring season is starting!
The first thing to do when this time comes is to make sure all the gear is up to touring condition. So as you notice in the photo above, I had to send one of my pedals out for repair. The pedal in question is an Electro Harmonix POG 2. I use it for the intro to "You Give Love A Bad Name" which calls for an octave above and below the played note. It unfortunately suffered a broken fader last year while on tour. The pedal still worked, but I started to not trust it as time went on.
I have also added a new Morley Bad Horsie 2 wah pedal to the party. It's been a long time since I've had a working Wah pedal. My last Morley kinda folded due to some not-so-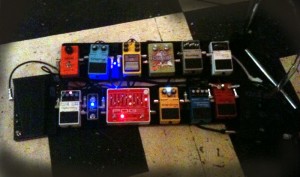 strong metal fatigue. Luckily my pal Bill at Morley took care of me and I can see that this new one is WAY better and stronger built than the last one.
I have also added a little clean-boost pedal to help throw my solo channel over the edge. It's an EP Clean Boost, my first clean boost!
Next are the guitars. I took my two touring electrics down to Steve Finley at The Guitar Repair Centre for him to work his magic. I'm always shocked at how much wear & tear these things go through, and totally unnoticed, I might add. Apparently I was on the verge of having a complete instrument breakdown! Crisis averted!
I didn't bring in the double neck as it was just set up before we brought it on the road and only used it for a few gigs before the end of the season. Also, it came out of it's case IN TUNE still!! So I think that one's a keeper.
Well that's about it, if you have any questions about my set-up or want to see a video demo of any of my equipment, please let me know by posting a comment!
See you on the road!